Forums bring health education to the community
In 2018, the Highmark Foundation partnered with the Pittsburgh Post-Gazette on three community health forums to initiate discussions on health issues and concerns affecting people in our region. Each of the events was held in Pittsburgh and was free and open to the public.
The first event took place in April and included Pennsylvania Governor Tom Wolfe and Dr. Charles DeShazer, senior vice president and Chief Medical Officer for Highmark Inc., Highmark Health's affiliated health plan, along with other distinguished panelists. These experts gathered to discuss a major health issue in the region — the opioid crisis. With a record 700-plus overdoses last year in Allegheny County alone, the event brought together community leaders who are organizing resources and working to address viable strategies to reduce opioid use.
The focus of the second event, in September, was on new developments in health care for seniors. Panelists, including Highmark Inc. Senior Medical Director, Dr. Pachavit Kasemsap, and Allegheny Health Network (AHN) gerontologist, Dr. Judith Black, along with other local experts, examined how new developments have changed the health outlook for millions of seniors in the region and across the nation.
The final event, in December, featured a panel including Cain Hayes, president and CEO of Gateway Health, and Annette Fetchko, MHA, RN service line director, Center for Inclusion Health at AHN, to discuss social determinants of health. There remain great disparities in the health of citizens and in access to health resources, and the evening was spent addressing this problem as well as searching for potential solutions.
"Understanding the social determinants of health is important in reducing health care disparities and improving the quality of health care and access to services. The health forum, in collaboration with the Pittsburgh Post-Gazette, is important to educate communities about inequalities in health and propose effective strategies to address them," said Highmark Foundation President Yvonne Cook. "The Highmark Foundation supports initiatives and programs aimed at improving community health. This forum is one example of how we do just that by working with local organizations to address important health care issues."
Each event was designed to help encourage conversation and get communities talking about these important issues, and to take steps to figure out how to come together and make positive changes to improve the health of the region.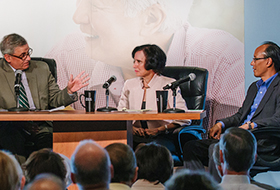 Participants at a 2018 community health forum (Photo by Andrew Rush)