Innovative provider collaborations
As competition across service areas continues to increase, and as some competitors expand through acquisitions, Highmark Health Plans have developed an innovative strategy of provider collaborations with like-minded organizations that want to work together to improve the quality and lower the cost of care.
In some cases, this strategy calls for contractual-only relationships with providers as in the past. In other cases, the strategy calls for aligning with providers such as Geisinger through joint ventures, or with Penn State Health through affiliation and economic integration.
The affiliation with Penn State Health includes a collective investment of more than $1 billion toward the development of a higher-value, community-based health care network designed to keep care local and enhance collaboration with community physicians as well as invest in existing facilities and physician practices to improve care delivery in the central Pennsylvania region.
Another benefit to members of these innovative provider collaborations is the True Performance program. True Performance is a value-based reimbursement program for primary care physicians (PCPs) that's focused on affordability and quality of health for members. The program evaluates a PCP's ability to deliver optimal, effective care, and rewards them for their performance on quality and cost/utilization measures, as well as preventive care. It is one of the largest risk-based PCP value-based reimbursement programs in the country.
Mon Health Medical Center in Morgantown, WV joined True Performance in 2018. The structure of True Performance has helped this organization's various PCP clinics to streamline processes, share ideas, and implement best practices at all locations, according to Sam Cilento, decision support analyst in the Quality Department at Mon Health.
"Our PCPs now are even more engaged with their patients in helping them meet expectations of care and manage their health better throughout the year," Cilento explained.
True Performance has also meant stability for Neal M. Davis, DO in Carbondale, PA. "The incentive revenue I am earning through True Performance has helped me remain independent, which is very important to me," said Dr. Davis, who joined the program in 2017.
From January of 2017 through the middle of 2018, True Performance providers achieved a total of $415 million in avoided costs and had emergency department utilization rates 10.5 percent lower and inpatient admission rates 17.3 percent lower than those of providers not in the program.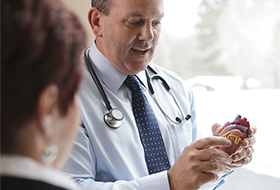 Dr. Bob Crossey, who appears in a Highmark video about the True Performance program