United Concordia Dental grows its national presence through a partnership with a Wyoming health plan
Meeting United Concordia Dental's goal to grow its national presence and create flexible dental solutions for Blues plans requires close collaboration with customers that share a commitment to helping members lead healthier, more productive lives.
United Concordia Dental did just that when it formed a strategic partnership in 2018 with an insurance company in Wyoming. The partnership is part of an enterprise solution along with HM Health Solutions (HMHS).
The Wyoming health plan customer migrated approximately 53,000 health insurance members to United Concordia Dental's dental plans by January 2019. Those members now have access to dental care through United Concordia Dental's national Advantage Plus network.
That customer also benefits from United Concordia Dental's dental expertise, sophisticated claims processing system, dentists portals, and focus on overall health.
It took several months to negotiate and execute the agreement, and adjustments had to be made along the way, but it was clear that forming a strategic partnership would be beneficial to all parties involved.
"Our experience with United Concordia exceeded expectations," said Connie Trowbridge, vice president of Strategy for the Wyoming health plan. "They kept all of their commitments and met all deadlines. And they were flexible enough to respond to requirements that changed as the agreement was being implemented."
Implementing this customer required the migration of medical, dental, and vision members at the same time, while also preparing for billing, enrollment, and other needs. Despite a compressed timeframe, the project team completed the work several months ahead of schedule.
"We're very optimistic about the future of our relationship," said Kurtis Shook, director, Strategic Partnerships, United Concordia Dental. "As we expand our presence, we'll further demonstrate the value we can provide for our new customers."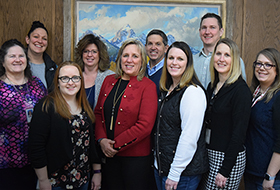 Members of the Wyoming health plan that is part of a strategic partnership with United Concordia Dental and HM Health Solutions