Supporting customers with smart technology as well as fashionable frames
Fourteen-year-old Alexis saw her optometrist, Dr. Jeffrey Abrahams, to reorder contact lenses. Her mother had not expressed concern about any possible vision problems Alexis may have, but Dr. Abrahams explained the importance of regular, comprehensive eye exams to preserve the health of her eyes.
"Most people don't think they need an eye exam until they complain of vision problems, but regular eye exams can prevent damage to the eye and identify any issues that need to be addressed, including those that would otherwise go undetected until they worsen," Dr. Abrahams explained.
Her mother didn't feel a retinal evaluation was necessary, but Dr. Abrahams informed her about Optomap technology, which allows for an in-depth examination without dilation. Optomap imaging can capture over 80 percent of the retina in a single panoramic image. A traditional, undilated eye exam often only reveals 10–15 percent of the retina at one time. This means that Optomap technology can help the eye doctor catch the earliest sign of disease or damage in the eye.
Alexis' mother agreed to the Optomap test, which revealed a retinal hole in her right eye. Alexis loves to play soccer, and that retinal hole put her at risk of retinal detachment in the case of a head trauma. After consulting with Dr. Eric Sigler, a retinal specialist, Alexis received laser therapy for the retinal hole. Her retina went from having a 50-percent chance of detaching to a 0-percent chance.
Dr. Jason Singh, senior vice president for Doctors and Retail Field for Visionworks, said his team is proud to be able to help preserve Alexis' sight, and to provide Optomap testing to help others like her. "We hope Alexis goes on to enjoy healthy vision for many years to come, and we congratulate Dr. Abrahams for exemplifying a professional, helpful spirit."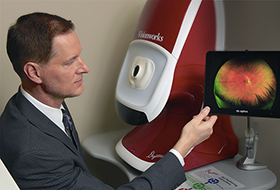 Visionworks customers can get the benefit of Optomap imaging, demonstrated above by Dr. Todd Shuba, an optometrist at a Visionworks location in Pittsburgh