Overview
Headquartered in Pittsburgh, Pennsylvania, Helion, an indirect wholly owned subsidiary of Highmark Health, delivers solutions to health plan payers to advance health and healing in the home by transforming the network of providers and nurses to optimize outcomes, provide better value, and enhance the customer experience.
The foundation of Helion's strategy is centered on enabling patients to receive care in the least restrictive and most desirable environment, such as the home.
Helion's vision is a future where the home is embraced as the keystone of the care continuum. Its mission is to empower patients, providers, and payers to advance health and healing in the home through informed collaboration.
In 2022, Helion provided services in multiple states — which included collaborating with over 1,800 post-acute partners. Helion products and services include a suite of data- and analytic-driven services that bring evidence and insights to the home and community care network. Additionally, it offers a network optimization system that provides a path to true value-based care and optimized network performance. These two key components work together to unlock the potential of home and community care for payers and providers so they can deliver prevention, condition management, and healing — helping providers elevate what they do and positively impact the entire care continuum.
READ MORE
Building capabilities to shift care into the home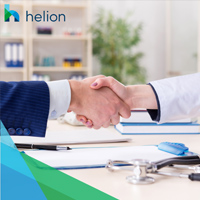 Helion's mission is to transform health care by reimagining the home as the central setting for health and healing. While many companies use vendors, Helion differentiates itself by leveraging its extensive post-acute care network of skilled nursing facilities, home health agencies, long-term acute care hospitals, inpatient rehabilitation facilities and hospice agencies. Investing in the skills of this network and strengthening the provider/payer relationship brings more opportunities for patients to receive care in the home. Helion builds these capabilities by empowering providers with the right insights, tools, and guidance, so they can deliver better care for patients and reduce administrative burden.
"When I think about our vision of shifting care into the home, it is crucial that post-acute providers have a seat at the table and a voice in our transformation efforts," said Nick Stupakis, vice president of Helion.
In 2022, Helion launched its Network Performance suite and introduced post-acute Value-Based Reimbursement (VBR) within a Pennsylvania Medicaid plan. "The goal of both offerings is to work with providers to have better outcomes for members, whether it's lowering readmissions, total cost of care or emergency room utilization," says Chris Cycak, Helion's director of strategic network operations.
Helion's Network Performance team builds relationships with providers through sharing best practices and supporting solutions to optimize the care they are providing. Scorecards track performance, while also indicating areas of opportunity. VBR programs feature tiered financial incentives and precise quality metrics that reward providers for better outcomes.
Helion has also introduced several pilot programs to further address issues that impact overall health and well-being. For example, a remote patient monitoring pilot with Health Recovery Solutions provides members access to telehealth software, which tracks medication adherence and allows for virtual visits. Another pilot program focuses on serving members' behavioral health needs virtually while receiving home health care. There is also a pilot program that aims to identify members with social determinants of health needs and then connect them to community resources. With more people reaching advanced age and younger generations bringing different preferences and expectations to the health industry, consumer demand for health care in the home will continue to increase in the future. This is the driving force behind the foundational capabilities that Helion continues to create.
READ MORE
Health Care Reinvented: Helion addresses home-centered care [podcast]
Other Highlights
Over 86% of home health agencies in the networks Helion serves are in a value-based arrangement.
Approximately 86% of home health episodes are driven to high-performing networks.
Insight: Payer-Provider Collaboration in Home-Centered Care
"When I think about our vision of shifting care into the home, it is crucial that post-acute providers have a seat at the table and a voice in our transformation efforts."