Overview
HM Insurance Group and its licensed subsidiaries work to protect businesses from the financial risks associated with catastrophic health care costs.
With nearly 40 years in the market, HM Insurance Group is among the top carriers nationally for stop loss insurance, protecting self-funded clients from the financial loss associated with unexpected large or catastrophic claims. Similarly, HM Insurance Group's Managed Care Reinsurance product line delivers optimal coverage for the financial protection of risk-bearing entities such as health plans and provider organizations, and the HM Specialty business provides reinsurance coverage for ceding carriers.
Headquartered in Pittsburgh, the company has offices in 17 locations nationwide, and is licensed in 50 states and the District of Columbia.
HM Insurance Group responds to market changes and works with clients to ensure their coverage needs are met with expert risk assessment, excellence in operational performance, and successful cost containment practices that optimize coverage.
READ MORE
Making a positive impact across the nation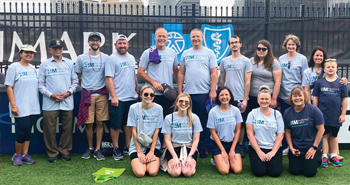 In 2022, the HM Insurance Group Corporate Giving Team directed more than $310,000 to 75 nonprofit organizations. In addition, employees provided many hours of volunteerism in communities across the nation.
As a stop loss carrier, the company sees firsthand the debilitating effects of catastrophic medical conditions. It provides significant backing to organizations that work to improve conditions that result in catastrophic medical expenses — organizations that support research, provide patient advocacy, and build awareness. For example, HM Insurance Group sponsored the Leukemia and Lymphoma Society's (LLS) Light the Night Walks in Pittsburgh, Philadelphia, Manhattan, and Buffalo to help the LLS in their work to raise funds to cure blood cancers and improve the quality of life for patients.
With community needs always evolving, the company and its employees supported organizations that address causes such as disaster relief, food insecurity and mental health in 2022 as well.
When Hurricane Ian caused widespread damage, HM Insurance Group donated $50,000 to the Florida Disaster Fund to help support employees, partners and clients impacted by the hard-hitting storm surges and flooding.
As food prices skyrocketed and food insecurity impacted more people than ever, HM Insurance Group employees hosted an on-site and virtual food drive for the Greater Pittsburgh Community Food Bank and volunteered time to help the Urban League of Greater Pittsburgh pack bags of food that provided dinner for 900 families in need during the holidays. Additionally, HM Insurance Group donated nearly $70,000 to nonprofit organizations, in 12 different cities, addressing food insecurity.
Recognizing the impact of the COVID-19 pandemic on mental health, including increases in the number of people suffering from depression and anxiety, HM Insurance Group supported the American Foundation for Suicide Prevention's Out of the Darkness Walk. Employees formed a walk team and the company served as a corporate sponsor to help fund and promote efforts to save lives and bring hope to those affected by suicide.
READ MORE
Mark Lawrence, president, HM Insurance Group, discusses the importance of stop loss coverage [podcast]
Annual gross revenues of $1.2 billion.
Insures more than 1,200 self-funded plans.
Paid more than $750 million in claims in 2022.
Spotlight: Community Involvement
In 2022, the HM Insurance Group Corporate Giving Team directed more than $310,000 to 75 nonprofit organizations.