Overview
Allegheny Health Network (AHN), a tax-exempt charitable organization, the sole member of which is Highmark Health, serves western Pennsylvania and parts of neighboring states. Commencing operations in 2013, AHN is a $4 billion health and wellness organization that has more than 300 clinical facilities, including hospitals throughout western Pennsylvania and one in western New York; Health + Wellness Pavilions; a comprehensive research institute; ambulatory surgery centers; an employed physician organization; home- and community-based health services; and a group purchasing organization.
AHN employs about 21,000 people, has 2,600 physicians on its medical staff, is affiliated with two nursing schools, and serves as a clinical campus for Drexel University College of Medicine and the Lake Erie College of Osteopathic Medicine.
In 2021, AHN continued to make significant investments in facilities, programs, and technologies that enhance the scope, quality, and accessibility of its services. Over the course of the year, AHN opened AHN Wexford Hospital, a new outpatient clinic in New Kensington, and a new downtown Pittsburgh "community outreach hub" that provides support services to individuals with unmet health and wellness needs.
AHN also announced the planned construction of a $14 million skin cancer and melanoma center at West Penn Hospital and a $70 million Health + Wellness Pavilion in North Fayette, which will house AHN's Center for Reproductive Medicine. Both facilities are scheduled to open in 2022.
Hitting it out of the park: AHN steps up to protect the community with COVID-19 vaccination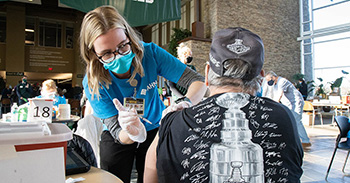 For a health care organization used to doing big things and overcoming steep odds, Allegheny Health Network found itself facing its biggest challenge ever in 2021 — planning and executing the region's largest mass vaccination campaign since the polio drives of the 1950s.
From firehalls to shopping malls, from hockey arenas to baseball parks, and at hospitals and outpatient offices across its geographic footprint, AHN's front-line caregivers spent the year delivering COVID-19 vaccines to patients throughout western Pennsylvania, and beyond.
The vaccination campaign was a remarkable logistical feat — large-scale clinics such as those carried out at PNC Park, Erie Insurance Arena, and DICK'S Sporting Goods' corporate headquarters required hundreds of employees and volunteers to accommodate up to 8,000 patients per day.
AHN also placed special emphasis on delivering vaccines to at-risk, marginalized and historically underserved communities, organizing invitation-only clinics in select geographies, and partnering with community and faith-based organizations that serve minority populations. The goal was to ensure that 15%-20% of AHN's vaccine allotment was delivered to underserved groups, reflecting the demographics of the communities served by the organization.
By the end of the year, AHN had administered more than 400,000 vaccinations to nearly 210,000 patients, including more than 3,000 children ages 5-11. The network held dozens of large-scale community vaccination events throughout the year.
"It's an all-hands-on-deck effort," said AHN President and CEO Cynthia Hundorfean. "I'm so proud of the way our caregivers, our partners, and the entire AHN and Highmark Health teams stepped up to help keep our region safe."
In 2021, AHN also opened its 14th hospital, AHN Wexford Hospital. AHN Wexford, which opened in the autumn and adjoins the Wexford Health + Wellness Pavilion, is a full-service, 160-bed hospital that includes a labor and delivery unit, a Level II NICU, a 24-bed emergency department, operating rooms, and an adult intensive care unit, offering care in cancer, neurology, cardiology, radiology, gastroenterology, rheumatology, endocrinology and orthopaedics, among other disciplines.
Taking COVID-19 vaccines to every community [Video]
David Holmberg, chief executive officer, Highmark Health:
Enough is enough — let's prove to everybody the scale and scope that we can all respond at. We literally could do it for weeks on end, if need be.
Newscast clips:
Health officials joined forces to provide a COVID-19 vaccine clinic in Sharon today…
A specialized COVID vaccine clinic at Jefferson Hospital…
Hosting a COVID-19 vaccine clinic today for high-risk marginalized patients including Black and Latino populations…
Studies have shown the hospitalization rate among minorities is nearly five times the rate of white people…
Dr. Margaret Larkins-Pettigrew, chief clinical diversity, equity and inclusion officer, Allegheny Health Network:
Allegheny Health Network has been reaching out to the communities. We have clinics set up that are specifically targeted for African-American patients. This is a model I don't think anyone else is using. It's just important for us to make sure that we recognize that we are part of the fabric of this community, and so to reach out to them instead of them having to reach out to us makes a really big difference.
Newscast clips:
DICK'S Sporting Goods' Coraopolis headquarters transformed into a COVID-19 vaccination clinic today…
Thousands flocked to PNC Park today for Allegheny Health Network's second mass vaccination clinic…
AHN Saint Vincent Hospital held the region's largest vaccination clinic since the 1950s today…
More than 5,000 people will get their first shots today at the Monroeville Convention Center…
Dr. Mark Rubino, president, AHN Forbes Hospital, Allegheny Health Network:
The reality of it is we don't really have access to this building every day, so the team has to break it down tonight and bring it out to the west part of the city on Friday.
Newscast clips:
The vaccine clinic was prepared to vaccinate 1,100 people…
Dr. Imran Qadeer, Allegheny Health Network:
We thought we could accommodate 1,000 more, so we increased the doses available, too.
Newscast clips:
One shot down, one to go — 2,500 people now with their first shot of the Pfizer vaccine…
But I do want to step aside just to show you how massive this operation is to get 5,100+ people vaccinated…
David Holmberg, chief executive officer, Highmark Health:
We think that we could do 10,000 in this site. The real key will be to do it over multiple days.
Newscast clips:
Today they surpassed over 10,000 since December 17…
Over 14,000 of our own patients…
After today's event, AHN Saint Vincent Hospital will have given out 17,000 doses of the Pfizer vaccine since the pandemic began…
Newscast clips, patients:
We were willing to drive if we had to, but this was so convenient, and we were really glad that it was in our area…
One after the other — it's really amazing what they did, I'll tell you…
It's way more organized than I ever anticipated, just seeing everything on TV…
It's really a step in the right direction…
After trying for months and months for an appointment, it actually just feels really good to have the vaccine…
I'm glad to have it, I think everybody should get it…
I didn't even feel it going in — I thought I was going to be screaming…
Up until now we really only see them through the phone, you know, on FaceTime…
I'll be able to be with my friends that have been vaccinated also…
Cindy Hundorfean, president, chief executive officer, Allegheny Health Network:
I think that the people that are going through have been nothing but grateful and really overwhelmingly positive about coming here.
Newscast clips, patients:

We had a family member pass away from the COVID, so I'm thinking it's probably a good idea…
The shot means a lot to me because I'm expecting my pregnant daughter, who's due in June, to arrive here…
I have a lot of little grandchildren and I don't want them to get anything from me…
People that need this are getting it finally, which is the most important thing right now…
I'm thankful that this pandemic is coming to an end for all, not just me…
Hallelulah…
160-bed AHN Wexford Hospital opens in Pine Township [article]
Other Highlights
In 2021, AHN administered more than 400,000 COVID-19 vaccinations.
The abdominal transplant team at Allegheny General Hospital performed its first living-donor liver transplant, joining select medical centers that carry out the highly sophisticated procedure.
Saint Vincent Hospital and Forbes Hospital cut the ribbons on new Healthy Food Centers, the fourth and fifth "food pharmacies" to open across AHN.
Insight: Vaccination Campaign
"It's an all-hands-on-deck effort. I'm so proud of the way our caregivers, our partners, and the entire AHN and Highmark Health teams stepped up to help keep our region safe."