Overview
Headquartered in Pittsburgh, Pennsylvania, HM Health Solutions (HMHS), a wholly-owned subsidiary of Highmark Health, delivers solutions to health plan payers to administer business more efficiently and effectively in a competitive and ever-changing market. HMHS' product is the Enterprise Health Solution Platform.
As of January 2022, HMHS provided services to 12 health plans and served approximately 11 million members. Health plans already using the Enterprise Health Solution include Highmark health plans in three states, AmeriHealth Pennsylvania, AmeriHealth New Jersey, leading health insurance companies in the Philadelphia region, and other health plans that serve members in various states, including Minnesota, North Dakota, and Wyoming. The Enterprise Health Solution supports every health care line of business. This allows health plan customers to use one platform for all lines of business, saving costs as well as opening the door to markets that may have previously gone untapped.
People are key to "Best Places to Work" recognition, customer satisfaction, Living Health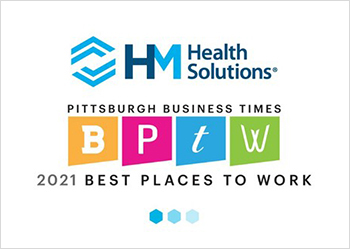 HM Health Solutions (HMHS) leaders point out that its people are the common denominator behind 2021 recognition as one of Pittsburgh Business Times' "Best Places to Work," customer satisfaction, and advancing the enterprise's Living Health strategy.
"Living Health is about a healthy community of patients, members, and our customers," explained Mick Malec, HMHS CEO and enterprise technology and operations officer. "Living Health revolutionizes health care. It empowers us to improve relationships between patients and providers through innovative solutions that break barriers, providing personalized experiences for individual health needs. Living Health enhances the way we think about health and health care — and our people are at the center of it all."
Melissa Stephens Williamson, COO, HMHS, furthered that sentiment. "The strength of an organization shines forth in its people, and HMHS is no exception," she said. "Within the last few years, our lives have undergone significant change. Not every transition has been easy — but HMHS employees have adapted to meet the needs of customers and colleagues alike. Through their work with emerging technology, our people are creating better health outcomes for those within their local communities and far beyond."
There's also no denying that HMHS' people make the company one of the best places to work. In 2021, Pittsburgh-based employees shared their experience working at HMHS through a survey administered by the Pittsburgh Business Times. Direct employee feedback determined if the company would rank among the region's top organizations. HMHS employees made their voices heard, and the result was "Best Places to Work" recognition in the Extra-Large category for organizations with 150+ employees.
Mick Malec discusses HMHS' commitment to employing people with disabilities [podcast]
Other Highlights
As of January 2022, HMHS services approximately 11 million members of separate health plans via the Enterprise Health Solution.
HMHS supports all lines of health care business: national, large/small group, individual, ACA, Medicaid, and Medicare Advantage.
Insight: Living Health
"Living Health enhances the way we think about health and health care — and our people are at the center of it all."