Business Highlights:
Our Business Fast Facts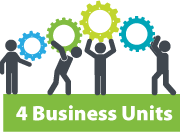 Highmark Health is a health and wellness enterprise that includes 4 business units serving consumers and business customers across the U.S.

Highmark Inc. and its subsidiaries and affiliates provide health insurance to 5.3 million members in Pennsylvania, West Virginia and Delaware.

In 2014, HVHC Distribution & Manufacturing custom-made more than 4.6 million pairs of eyeglasses for its Visionworks and Davis Vision customers.

Visionworks serves one customer at a time through its more than 650 optical retail stores in 40 states and the District of Columbia.

Davis Vision is proud to provide vision care coverage to more than 21 million members and vision benefits to more than 1,500 client organizations across America.

United Concordia Dental's network includes nearly 103,000 dentists at more than 283,000 access points, putting two or more dentists within 10 miles of every member.

HM Insurance Group ranks among the top 4 stop loss carriers, providing protection from financial risks for self-funded groups.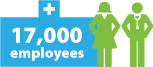 Allegheny Health Network includes 17,000 employees and 2,100 affiliated physicians who deliver care to patients in Western Pennsylvania and beyond.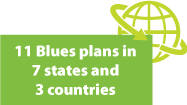 HM Health Solutions now supports 11 Blue plans in 7 states and 3 countries on state-of-the-art technology platforms.