Business Highlights:
Integrated Delivery Network
Overview
Highmark Health's integrated delivery network, led by its parent company Allegheny Health Network (AHN), is located primarily in western Pennsylvania and includes 8 hospitals; more than 2,100 affiliated physicians; ambulatory surgery centers; Health + Wellness Pavilions; an employed physician organization, home and community based health services; a research institute; and a group purchasing organization. The network is 17,000 employees strong and also serves as a clinical campus for Temple University School of Medicine, Drexel University College of Medicine and the Lake Erie College of Osteopathic Medicine.
Formed in 2013, the integrated delivery network provides patients with care through several centers of excellence and many advanced specialties, and as a model drives innovation and efficiencies that result in exceptional, more affordable health care for patients. The network continues to garner national recognition as a leading provider of comprehensive health care services and as a hub for pioneering research and medical breakthroughs.
In 2014, the integrated delivery network continued to make progress in strengthening operations through investments in programs, facilities and technology that enhanced the scope, quality and accessibility of the services that it provides. The network also established partnerships with leading national institutions to further advance its capabilities.
Investments in the integrated delivery network facilities in western Pennsylvania in 2014 included the new Wexford Health + Wellness Pavilion; a state-of-the-art hybrid operating room and a new 36-bed Surgical Procedure Unit at Allegheny General Hospital; the reopening of West Penn Hospital's Cardiovascular Institute and the expansion and renovation of its intensive care units and obstetrical facilities; and the addition of advanced medical imaging capabilities at Allegheny Valley Hospital.
At Jefferson Hospital, the network proudly opened the region's first new obstetrics unit in more than 30 years in November, as well as a new Women's Health Center and a Cancer Institute. And the network also unveiled a contemporary surgery center in Monroeville and established new clinical capabilities at Canonsburg, Forbes and Saint Vincent hospitals — from neurosurgery and orthopedics to thoracic/esophageal diseases and gynecologic oncology.
Read the community highlights related to the integrated delivery network. Read Highmark Health's financial overview. View Highmark Health's financial performance.

Fast Fact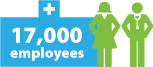 Allegheny Health Network includes 17,000 employees and 2,100 affiliated physicians who deliver care to patients in western Pennsylvania and beyond.
Awards & Recognition

Allegheny Health Network Hospitals named 2014 U.S. News and World Report's "Best Hospitals"
Allegheny General, Forbes, Saint Vincent and West Penn Hospitals were named by U.S. News and World Report as high-performing medical centers across multiple clinical specialties.

Allegheny Health Network Hospitals recognized among 2014 Joint Commission Top Performers
Allegheny General, Allegheny Valley and West Penn Hospitals were among just 57 Pennsylvania hospitals lauded as Top Performers on Key Quality Measures by The Joint Commission.

Allegheny Health Network Hospitals recognized with 2014 Fine Awards
Allegheny Valley and Saint Vincent Hospitals were recognized for clinical excellence at the seventh annual Fine Awards for Teamwork Excellence in Health Care, sponsored by the Jewish Healthcare Foundation and The Fine Foundation. Forbes Hospital was also a finalist for this award.

Allegheny General Hospital received 2014 National Research Corporation's (NRC) Consumer Choice Award for Western Pennsylvania
Allegheny General Hospital received the Consumer Choice Award, which identifies the top hospitals that healthcare consumers have chosen as having the highest quality and image in markets throughout the United States.
"Amazing. Above and beyond. I can't say enough about the doctors, the nurses and the care I received."
Megan Kruth
Allison Park, Pa.
A brain injury patient, Megan Kruth reflects on her caregivers at Allegheny Health Network, including Dr. Khaled Aziz, M.D., the neurosurgeon who treated her.
"Our goal from the start was to create a truly patient-centered health care system that raises the bar in our region on quality, access and service. I'm extremely proud of everyone in our organization for how far we have come in the pursuit of that vision. With Highmark Health's help, we have built a solid foundation for growth and long-term success."
Dr. Tony Farah, M.D.
Chief Medical Officer
Allegheny Health Network