Business Highlights:
HM Health Solutions
Overview
Highmark Health's newest affiliate company is HM Health Solutions (HMHS), launched in March and headquartered in Pittsburgh. HMHS provides innovative solutions to meet the needs of the Highmark plans as well as unaffiliated health insurance plans by providing proven business processes, expert knowledge and integrated cloud-based platforms.
HMHS leverages many years of health plan experience to offer advanced, integrated end-to-end health insurance solutions. HMHS helps plans to grow and engage membership, leverage industry leading capabilities, gain efficiencies and achieve economies of scale.
Among HMHS' business highlights in 2014 were its introduction as Highmark Health's newest company, launching its portfolio of solutions and addressing customers' fast-changing needs.
Read the community highlights related to HM Health Solutions. Read Highmark Health's financial overview. View Highmark Health's financial performance.

Fast Fact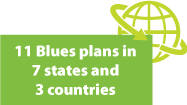 HM Health Solutions now supports 11 Blue plans in 7 states and 3 countries on state-of-the-art technology platforms.
Awards & Recognition

HM Health Solutions Named "2014 Project Management Company of the Year"
HM Health Solutions was named the "2014 Project Management Company of the Year" by the Project Management Institute's (PMI) Pittsburgh Chapter. The company was recognized for its contributions to the project management profession and for being a top employer for those in the project management field.
"Our companies have complementary cultures with respect to how we approach our businesses. We have come to know and appreciate each other during the assessment phase, and we have a strong foundation on which to build a stronger relationship."
Michael Guyette
President and Chief Executive Officer of Health Plan
Blue Cross and Blue Shield of Minnesota
Eagan, Minn.
"HM Health Solutions was established to commercialize our industry-leading technology and solutions. Customers who partner with HM Health Solutions grow revenue, reduce costs and increase customer engagement."
Matthew V. T. Ray
President
HM Health Solutions